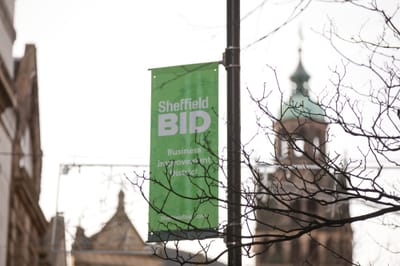 Sheffield City Centre BID Limited delivers the "Business Improvement District" here in the city centre. The BID Company also provides several services to a broader set of businesses who are outside the scope of the mandatory BID levy.
Although often referred to as "Voluntary Membership" we prefer to think of businesses who join us voluntarily as "Associates".
As a not-for-profit company limited by guarantee, our income is used to support a step change in the commercial trading environment, working to improve the vibrancy of the city centre BID area.
Join us as an
Associate Member
today and be part of the BID community.
Every penny of an associate membership fee goes into promoting and developing the city centre as a visitor destination, working towards creating a positive step change in the city centre economy. Everything that Sheffield BID does is additional to what the Council should be doing.
There are many fringe benefits to supporting the work of the BID, each designed to achieve economies of scale and business cost savings combined with partnership working and a greater sense of community.
The benefits
Access daily rapid response cleaning of rough sleeper detritus, sharps and other hazardous/environmental waste affecting commercial premises.
Access security advice around graffiti vandalism prevention measures.
Call on support from a dedicated Operations Manager for environmental issues impacting your premises.
Participate in Business Crime Partnership forums.
Keep up to date with city centre changes, impacts and opportunities with a regular visit from our Business Liaison officer.
Feature in our marketing campaigns, boosted social media posts and our visitor website sheffieldcitycentre.com.
Sign up free to accept the Sheffield Gift Card as payment for goods and services.
And it's not just businesses in a consumer-facing environment that benefit from being part of the BID. Many office-based industries join us as part of their corporate social responsibility ethics and their desire to attract and retain staff in a safe and vibrant city centre.
Become an Associate BID Member TODAY!
We started back in 2015 as a Business Improvement District for the city centre. Five years on, we continue to manage the BID scheme on behalf of those businesses that pay the BID levy within the city centre BID area.
Making the most of Sheffield city centre is vital for our local economy. Whether yours is a small, medium or large organisation, please join us and help shape the future of Sheffield city centre.
Help us champion the city centre and drive forward the transformation of the local high street by joining as an Associate Member today!
Email
manager@sheffieldbid.com
for details.
Here's what some of our associate members say
'The Cathedral Church of St Peter and St Paul, commonly known as Sheffield Cathedral, is the oldest building in Sheffield still in daily use. The Cathedral has played a key role in the development and history of Sheffield. As the city evolves, so does the work of the Cathedral. We need to work with a wide variety of partners from across the city. And we believe that by playing our part, signing up as an associate member of Sheffield BID, we will be even better placed to continue to contribute to the development of the city centre, helping to attract more people to visit the city whilst supporting its regeneration'.
Ben Rossi, Development Manager, The Cathedral Church of St Peter and St Paul
'Since 1977, Yorkshire Artspace has been actively involved in the regeneration of Castlegate and the Cultural Industries Quarter, where our two studio buildings are based. We want to strengthen our contribution to these areas and to the wider city, and feel better connected to a more diverse network of businesses (as many of our existing relationships are with other arts organisations). We feel strongly that culture and visual art are important aspects of the unique identity of Sheffield, and wish to share our expertise in these areas to inform and support the city's development. We are really excited to join the BID as an associate member and play a more active role in shaping the life and development of the city centre'.
Georgina Kettlewell, Director, Yorkshire Artspace